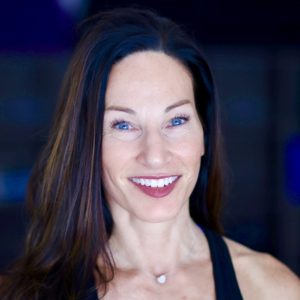 Director of Training Programs, ERYT 500
After more than 25 years of training my body to its physical limits, I learned I needed daily yoga in my life. I am an athletic person by nature and love the physical practice of yoga; the idea of touching each muscle and opening up all the energy channels in the body is exciting to me. My style of Vinyasa keeps me grounded, vital, healthy and present in my body. I have personally witnessed the power and peace of the practice of Vinyasa yoga in my active lifestyle and in my life at home. Through yoga I am more conscious of the way I interact with others, of my eating habits, my sleeping patterns, and the way I deal with my emotions, thoughts, and decisions. Through the alignment of my body I discovered the alignment of my mind and Self. Connecting to the healing power of my own body and awakening the power of my heart led to the creation of Yoga Palm Beach in October 2011.
I began my study of yoga 22 years ago as a Reebok Master Trainer traveling the world teaching their programs and since then devoted years deepening my knowledge studying with senior teachers of Vinyasa, Ashtanga, Power, Iyengar and and Yin yoga. I honor the traditions and teachings that have been passed on to me and have eternal gratitude for the teachers that continue to influence me. I completed my professional E-RYT 500-hour certificate with James Kigar and Judy Weaver at Yoga South in Boca Raton. Desiring to live more deeply in the history of the yoga tradition and ancient texts led me to in-depth course work with Rod Stryker and ParaYoga Master Training and study with Yogacarya Philip Christodoulou of Anuttara Yoga completing his 200-hour Philosophy of Yoga and Raja Yoga certification. I am dedicated to my practice and continue to quench my thirst for learning from inspiring teachers of other styles and traditions.
Additionally, I bring twenty-five years' experience training professional athletes, teaching group exercise, martial arts and dance, and share insights from my own deep personal practice and healing with my students. My intention is to blend an energetic, empowering and balanced physical yoga practice with a meditative, spiritual aspect providing you new insight to examine your life. Yoga has led me on a transformative journey of personal growth and I hope to serve others to reconnect to their natural strength and happiness both on and off the mat. Sharing this yoga journey with my community and friends is a joy that grounds and motivates me on my life path. I hope our paths meet soon.