Teacher, RYT 200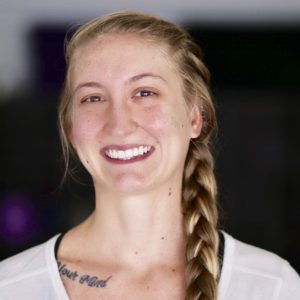 Growing up I was a perpetual athlete, playing everything- soccer, volleyball, dance, gymnastics, color guard, even marching band! In college I continued the trend, becoming very active in the university gym which offered all types of classes. It was there that I took my very first yoga class.
During that class the teacher demonstrated a headstand and I was completely inspired. I knew right away that I wanted to practice for the rest of my life, and to definitely do a headstand ha ha!
I continued to practice yoga at various studios throughout college (finally got that headstand) and eventually found myself at Thrive Power Yoga, where I fell in love with the vinyasa. It was then, practicing avidly for over a year, that I not only noticed a huge difference in my physical practice, but I began to fully embrace the mental aspects of yoga.
At that point, I decided to deepen my practice further and attend Thrive's Teacher training, so I could share this gift with others. I have been teaching here ever since!
I learn a little bit more about myself with every class I teach or take. I connect deeper to my personal teaching style and my interactions with students and fellow teachers. Yoga is more than a physical endeavor, it is a way of life, and I'm so happy to share this huge part of my life here at the studio with all of you.
When I'm not at the studio, you can find me hanging out with my dogs, making candles, cycling, trail running or hiking, basically anything outdoors. I love being active and connecting with nature. See you on the mat soon!