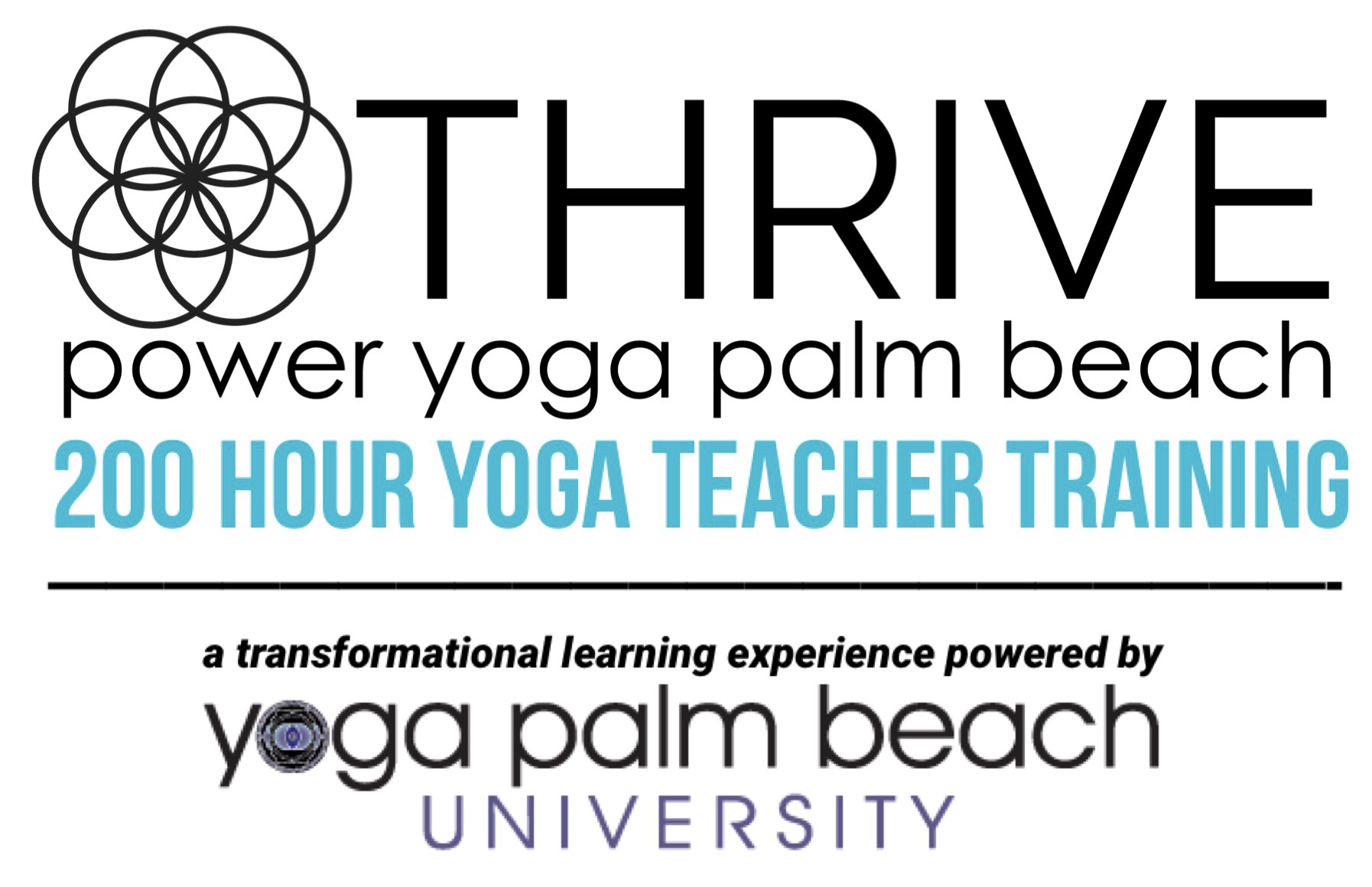 Thrive believes in maintaining  the highest levels of practice and instruction, which is why we provide training through respected yoga school Yoga Palm Beach University (YPBU), founded by Thrive Director Karen Burnett.  This training, powered by YPBU, and led by Thrive Directors, Karen Burnett ERYT500, Jill Romano RYT500, and Studio Manager, Katie Falconer RYT500 provides you with a curriculum that will not only deepen your personal practice, but also thoroughly prepare you to teach vinyasa yoga.
This program is for you if you want to get to know yourself better, be immersed in our conscious community and grow a deeper understanding of this beautiful practice!
Curriculum:
Vinyasa Sequencing
Yoga Anatomy & Alignment
Hands-On Adjustments
Teaching Methodology
Class Management & Cueing
Meditation
Pranayama
8 Limbs of Yoga
Yoga History & Philosophy
Yoga Ethics
Business of Yoga
We dive deep into the science of Vinyasa Sequencing, Yoga Philosophy & Ethics, Alignment and Adjustments, & the Business of Yoga.
Student teaching all-levels vinyasa classes are woven throughout the training. When you graduate you will have mastered the ability to teach a well-rounded, progressive vinyasa classes with verbal cues & hands-on assists to all -levels.
Program Dates 2019:
Program dates are conveniently every other weekend from June 14th to September 27th. No Training July 4th. See below for detailed dates:
Weekends: Friday 5:30-9p & Saturday/Sunday 9a-6p
June 14th-16th &

28th-30th
July 12th-14th & 26th-28th
August  9th-11th & 23rd-25th
September 6th-8th & 20th-22nd
Graduation: Friday, September 27th 5:30-8:30p
Program Fees:
$3000 Early Bird Discounted Tuition (Deposit submitted by April 1, 2019)
$3200 Tuition
$600 non-refundable deposit upon acceptance to secure your space. This will be applied to the overall cost. Payment plans are available. Cash, check or debit/credit are accepted. A 3% processing fee will be applied to all debit/credit payments.
Interested in learning more? YTT Frequently Asked Questions
For additional questions or application/registration assistance, please contact Jill Romano — jill@thrivepoweryogapb.com
Welcome to Teacher Training: