Welcome to THRIVE REWARDS!
We've partnered with our friends at Perkville to bring you this free program as a big THANK YOU for being a yogi with us. It's a simple way for you to earn points and redeem them for awesome services and merchandise.
From the moment you join THRIVE REWARDS you can start accruing points for doing the things you already do, like pre-registering on our App, attending classes, referring friends and sharing the Thrive Vibe with a Google review. 
Use your rewards points for free classes, private sessions, retail discounts and much more.
Complete your registration today and start earning points right away, starting with a 50-point bonus if you sign up now!
HOW IT WORKS
Q. How do I join?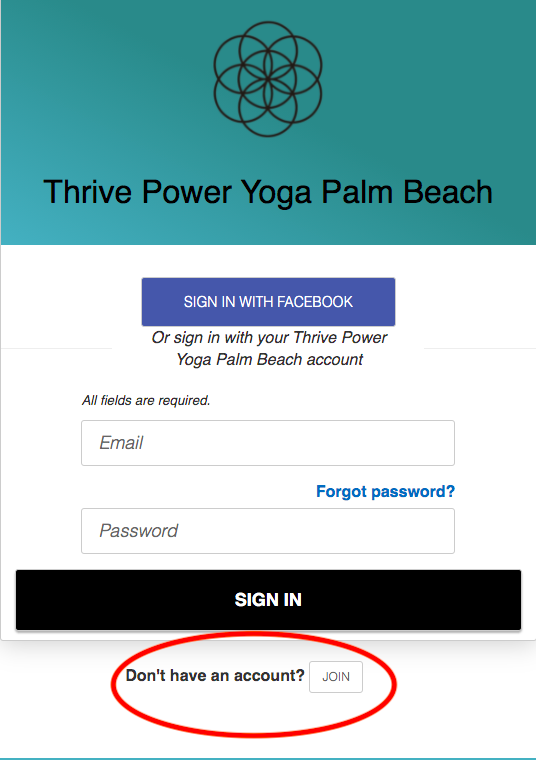 A. After you attend your first class, you'll automatically receive an opt-in email from Perkville. If you don't see the email, check your spam folder. Pro-Tip: Make sure to use that same email to join, because it syncs the account you already have with us. You also want to make sure you c
lick "JOIN", not "SIGN IN" the first time you create your account. Not sure what email is on file with us? Sh
oot us an email and we'll be happy to help. Check out
the pic to see where to click.
Q. How do I earn points?
A. You can easily earn points by simply taking class, referring friends who join as members, posting on social media, and much more! Plus, the first 100 people to sign up get 50 bonus points for just joining!
Q. How do I redeem points?
A. THRIVE REWARDS is fully integrated with our booking software, our App, our website, and our boutique Tru Palm Beach, making earning and redeeming points seamless. Whenever you refer a friend, take a class, share on social media or want to redeem, points are tracked and awarded automatically so you can redeem with ease.
Redeem your points by simply showing your redemption voucher on your smart phone to our front desk to redeem. We do not accept printed vouchers.
Q. How do I refer a friend?
A. Refer a friend via Thrive Rewards Referrals using your friend's email. Your friend will get a special offer to try us out! If they join as a monthly or yearly member, you'll earn 400 points!
The Fine Print
Earning points and redeeming perks for the program are only available via the Perkville interface, and while logged in.
All referrals must be initiated through Thrive Rewards Referrals to earn credit.
Perkville is a trusted partner of MINDBODY, our scheduling and point of sale system. Perkville will never share or use any Thrive student information.
Points are not valid for cash back and cannot be combined with other offers.
Points cannot be shared or transferred to other people.
Thrive Power Yoga Palm Beach reserves the right to alter earning or redemption values at any time or end the program as a whole, or for an individual without notice.
Launched 9/1/2021, points not available for anything prior to this date.